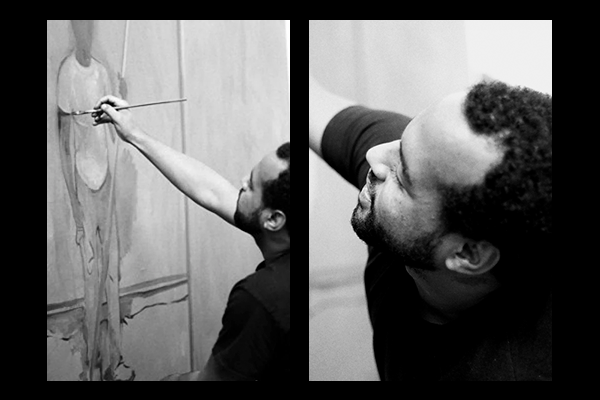 NOAH DAVIS PRIZE
Established in 2021 in partnership with the CHANEL Culture Fund, and named in honor of our visionary founder's curatorial legacy, the Noah Davis Prize celebrates curators who are innovating in their field and broadening cultural audiences. 
Each year, the prize will be offered to three curators who are nominated anonymously by their peers and selected by a jury of distinguished artists, curators, and critics. 
This year, the inaugural recipients are Candice Hopkins, Jamillah James, and Thomas Jean Lax, who were selected by a jury comprised of Hilton Als (independent curator; staff writer, The New Yorker), Christine Y. Kim (Curator of Contemporary Art, Los Angeles County Museum of Art), and Lowery Stokes Sims (Art Historian and Curator). 
In addition to an unrestricted $25,000 cash prize, the awardees will be invited to participate in a curatorial symposium at The Underground Museum hosted in partnership with the CHANEL Culture Fund in Spring 2022.
2021 AWARDEES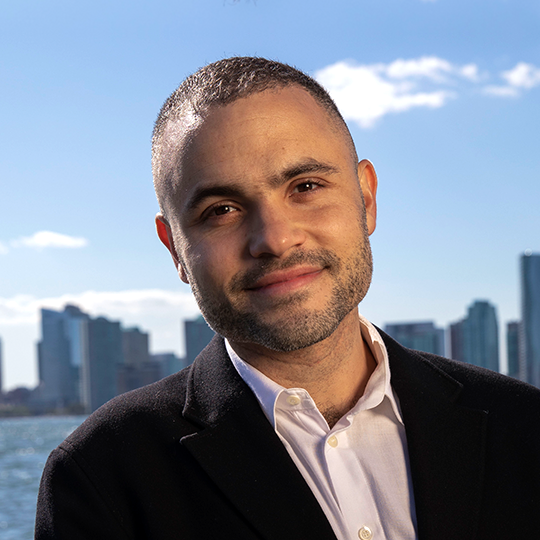 Thomas Jean Lax
New York City, New York.
Thomas Jean Lax is Curator of Media and Performance at the Museum of Modern Art, New York. At the center of their work is an attention to the ways in which creative people create their own visions of the world in response to histories of dispossession. They work with others to contextualize and care for precarious practices: artists working in ephemeral and fugitive media, as well as communities of African descent who have built self-made traditions in the absence of sustained support from public institutions. They are currently preparing the exhibition Just Above Midtown: 1974 to the Present with Linda Goode Bryant, scheduled for 2022. They worked with colleagues on a major rehang of the MoMA collection in 2019 and has organized other projects at MoMA including Unfinished Conversations, Maria Hassabi: PLASTIC, Neil Beloufa: The Colonies and Steffani Jemison: Promise Machine. Lax was the inaugural recipient of the Cisneros Research Grant, traveling to Brazil in 2020 to research contemporary Black art. Previously, they worked at the Studio Museum in Harlem for seven years. They are on the board of Danspace Project and the Jerome Foundation, and teaches at Wesleyan University's Institute for Curatorial Practice in Performance. They are on the advisory committees of Contemporary And, The Laundromat Project, Participant Inc., and Recess Assembly. Lax is a frequent contributor to exhibition catalogues, magazines and journals. A native New Yorker, Thomas holds degrees in Africana Studies and Art History from Brown University and Columbia University. In 2015, they were awarded the Walter Hopps Award for Curatorial Achievement and were a 2017 Center for Curatorial Leadership Fellow.
Image Attribution: Lola Flash for the 2019 Queer|Art Community Portrait Project.

Image Description: Lax leans on the Christopher Street Piers wearing a white button-up shirt and black blazer. The sky is blue and New York City's skyline is behind them.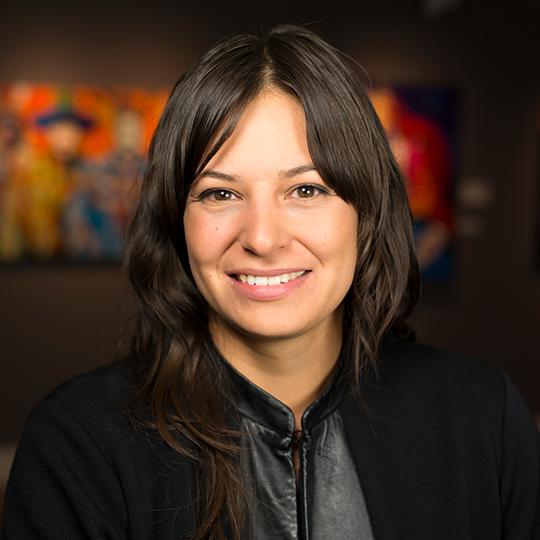 Candice Hopkins
Albuquerque, New Mexico.
Candice Hopkins is an independent curator who explores the intersections of history, contemporary art and indigeneity through her writing and curatorial practice. A citizen of Carcross/Tagish First Nation, she lives in Albuquerque, New Mexico. Hopkins is senior curator for the 2019 and 2022 editions of the Toronto Biennial of Art and was part of the curatorial team for the Canadian Pavilion of the 58th Venice Biennale, featuring the work of the media art collective Isuma. She is co-curator of the 2018 SITE Santa Fe biennial, Casa Tomada; documenta 14 in Athens, Greece and Kassel, Germany; Sakahàn: International Indigenous Art at the National Gallery of Canada; and Close Encounters: The Next 500 Years in Winnipeg, MB. She has contributed to numerous publications and exhibition catalogues.
Image Description: Candice Hopkins smiles in dark brown and a black shirt. She stands before an exhibition but the artwork is blurred.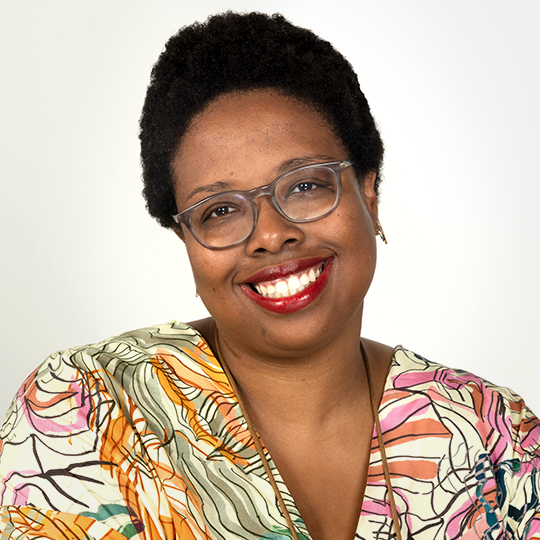 Jamillah James
Los Angeles, California.
Jamillah James is Senior Curator at the Institute of Contemporary Art, Los Angeles (ICA LA) and co-curator of the 2021 New Museum Triennial at the New Museum, New York. Prior to joining ICA LA in 2016, James was Assistant Curator at the Hammer Museum, Los Angeles, and held curatorial positions at the Studio Museum in Harlem and Queens Museum, New York, in addition to producing exhibitions and programs at various alternative and artist-run spaces throughout the U.S. and Canada since 2004. She has curated major surveys of Nayland Blake (2019) and B. Wurtz (2018); several thematic group exhibitions, including The Inconstant World (2021) and sisters and brothers (2014); and solo exhibitions of Lucas Blalock, Njideka Akunyili Crosby, Alex Da Corte, rafa esparza, Ann Greene Kelly, Maryam Jafri, Stanya Kahn, Simone Leigh, and Harold Mendez, among others. James is a recipient of a Curatorial Research Fellowship from the Andy Warhol Foundation for the Visual Arts (2021) and a VIA Art Foundation Curatorial Fellowship (2018). She has contributed to numerous publications and exhibition catalogues, and regularly lectures on contemporary art, curating, and professional development for emerging artists.
Image Attribution: Paul Sepuya
Image Description: Jamillah James is seen smiling before an all-white background in a colorful dress. She wears glasses and red lipstick.